Sadly, due to the forecasted freezing temperatures and rain/snow mix Friday night into Saturday morning, the Saturday road race at the Candy Stripe Classic (IU) has been cancelled. The Sunday criterium is still on, and registration has been extended until Friday evening.
There have been a few changes to the schedule: everything has been pushed back to start at 10:30, and the Men's B and Women's A have been combined.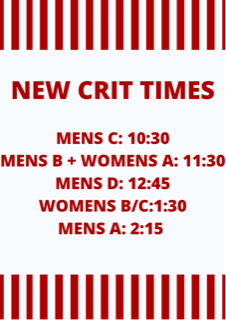 Stay tuned either to here or the @mwccc.cycling Instagram for the latest updates.